SAY CHEERS TO HEALTH!
In simple words, a healthy lifestyle is the one which we follow to improve our health and overall wellbeing.
What is a healthy lifestyle?
Aspects of a healthy lifestyle include (1) Daily exercise, (2) Adequate sleep, (3) Good nutrition, etc. But how many of us are actually able to follow the above?
Is one drink ok?
After a stressful week at work, one likes to unwind with a glass of drink or two, as one would like to believe that it just stops at that.
Drinking has become a part of our lives, many times from just weekend fun it graduates to binge drinking.
Liver and Alcohol
Did we know that the liver is a multifunctional organ and it carries out endless body functions simultaneously?
What we eat, drink goes through our liver before entering the bloodstream. So basically this super organ washes our sins.
For this super organ to continue its job of cleansing our blood, it's important to detox and rejuvenates it from time to time.
But oh dear! I can give up Alcohol.
Is it possible without that?
Yes, A Shout Out For Alchorid From Bagdara Farms
This wonder product comes straight from the lap of nature and is an answer to our health woes caused by alcohol & poor dietary lifestyle.
Rich in antioxidant properties in Alchorid prevents toxins released by alcohol from turning into harmful compounds that are a threat to our liver health. The curcumin in Alchorid neutralizes free radicals and boosts the activity of our body's own antioxidant enzymes.
Alchorid with a generous amount of curcumin and shielding functionalities thwarts any kind of oxidative stress that the toxins may pose to our liver.
As an anti-inflammatory, it counters inflammation that affects the day to day functioning of the liver and our general health.
It eases symptoms of depression by elevating our mood.
Alchorid ensures natural and smooth flow of the bile duct, which is our in house liver cleanser.
Alcohol dependence could trigger hepatitis b and the curcumin in Alchorid protects the liver from injury that is posed by this health deterrent.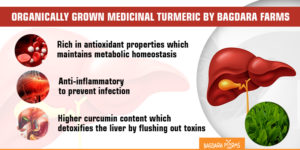 Drink Alcohol & Prevent liver damage naturally
Drink alcohol to celebrate happiness, Drink alchorid & cheers for Healthy life
So, if you are a person who is aiming for a healthy lifestyle yet not willing to give up your glass and continue celebrating life your way,
Alchorid should be your first choice undoubtedly. Alchorid calms your mind, making sure you stay in the best of your health.
Alchorid ensures that your liver is healthy, clean, detoxified, and absolutely devoid of any stress that may be caused by the consumption of alcohol.
At Bagdara while we follow traditional practices for our rich crop of turmeric, we also are aware of the changing times.
So with Alchorid, we have no intention of making claims that it will help stop you from quitting drinks, but it will surely reduce your urge to drink. Of course, as your well-wishers, we would always advise you to drink in moderation, but all we are saying is keep up with good health while just adding this absolutely natural ingredient in your lifestyle without the worries of any side effects.
So say yes to Alchorid and embrace nature with open arms because health is wealth and losing the same will make us lose on all the great things in life.
Come learn more about our product from the following video.
HTTPS://WWW.YOUTUBE.COM/WATCH?V=AYKJSGWHORK
---