Lung cancer is a disease that is often attributed to smoking. However, there are some other uncontrollable factors too that make a person vulnerable to this disease. These factors include exposure to polluted air for a prolonged period and genetics. Lung cancer occurs when there is a development of abnormal cells in the lungs which leads to the creation of tumours. These tumours disrupt the regular functioning of the lungs, thus causing physical symptoms like shortness of breath, a long-lasting cough, pain while breathing, and specks of blood in coughed-up phlegm.
Two Main Types Of Lung Cancer:
Non-Small Cell Cancer – This variant of lung carcinoma is the most prevalent kind and the majority of lung cancer cases fall in this category.
Small Cell Cancer – This is a less common but more aggressive form of lung cancer.
What Is Angiogenesis Targeted Therapy
While today the most common treatment methods for lung cancer include surgical extraction of tumours wherever possible, chemotherapy, and radiation therapy, there has been an increased focus on alternative methods of containing the progression of cancer. One such method that has been researched extensively of late involves targeting tumour angiogenesis pathways using natural anti-angiogenic substances. In order to understand this approach, it is vital to first learn more about angiogenesis and its impact on cancer. Angiogenesis is a normal physiological body process that creates new capillaries to supply nutrient-rich blood to parts of the body that require more supply. In a healthy body, angiogenesis occurs either when the body is going through a growth spurt or when the body is recovering from a wound. In the case of lung cancer though, angiogenesis is erroneously triggered by the rogue cancer cells in order to create a blood supply that can feed the tumours growing in the lungs. This process not only allows the tumours to thrive and grow but also enables cancer cells to move to other parts of the body.
The excessive production of pro-angiogenic factors in lung cancer patients occurs as a result of tissue hypoxia. Out of all these factors, one of the most active sets of protein factors that cause heightened angiogenesis in cancer patients is the VEGF group or the Vascular Endothelial Growth Factor. This includes VEGF A to VEGF-D as well as PIGF which is a placenta growth factor. This type of protein attaches itself to VEGF receptors like VEGFR-2 and causes processes like endothelial proliferation, increased permeability of tissue, and the creation of new blood carriers that can supply blood to tumours.
How Does Curcumin Work As An Anti-Angiogenic Agent In Lung Cancer?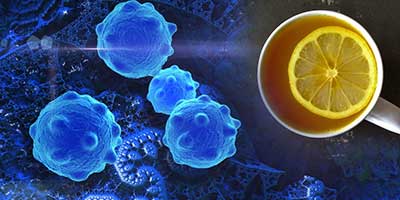 Curcumin is a polyphenolic pigment extracted from the spice turmeric. It has multiple therapeutic properties that make it extremely important as a healing agent in case of many ailments. In the case of lung malignancies, curcumin can be very beneficial as it has anti-angiogenic effects. Here are some ways in which it exerts these effects and reduces the severity of the disease:
STAT3 is a molecular pathway that is directly correlated to VEGF over-expression. Extreme STAT3C activity tends to trigger angiogenesis in tissues forming the tumours. It has been observed that in the case of non-small cell cancer of the lungs, regular consumption of curcumin can help inhibit the STAT3 pathway which in turn can lower the expression of VEGF and subsequently block angiogenesis in cancer cells.
Another protein that promotes the creation and survival of cancer cells is BclxL. The primary action of this protein in the case of cancer cells is its anti-apoptotic activity which inhibits the cell death procedure in cancer cells. Curcumin downregulates the expression of this protein as well thereby allowing apoptosis to occur in cancer cells.
Regular consumption of curcumin helps contain tumour growth by keeping tumour cells in check as well as preventing the proliferation of endothelial cells.
Curcumin has strong anti-inflammatory properties that inhibit the excessive activity of the NF-kb pathway which is also responsible for inducing angiogenesis in tumours.
Although these results are exciting and hold a great deal of promise for lung cancer patients, it is vital to keep in mind that the quality of curcumin that you are ingesting is very critical too.
The Points To Be Kept In Mind While Selecting An Appropriate Curcumin Supplement:
The curcumin used in the supplement should be a product of a wild strand.
The curcumin used in the supplement should not contain chemical residues
The curcumin supplement should be grown organically and with natural manure
The curcumin should not be treated with artificial pesticides and fertilizers
The curcumin should be devoid of any kind of adulterants
The curcumin should not be genetically modified.
Oncomin, a top-notch product created by Bagdara Farms, satisfies all of the above criteria and is, therefore, the most ideal supplement for cancer patients.